Discover
featured products
Hemp CBD Tea Bags
$

15.00
Pre-packaged 1-gram tea bags with ground hemp leaves and chamomile flowers. Tea is great as a before bedtime relaxing and soothing drink or as a "stress/tension releif" during the day. Each packet contains five 1-gram tea bags. Add your favorite milk or sweetener or just drink it straight."
Pre-Rolled CBD Hemp Flower Special Sauce
$

11.00
Inside a grape-flavored wrap you'll find a carefully-rolled gram of Cherry Wine CBD hemp flower. Because CBD flower doesn't contain more than 0.3% THC, you won't feel intoxicating effects from this blunt — just the things you love most about CBD.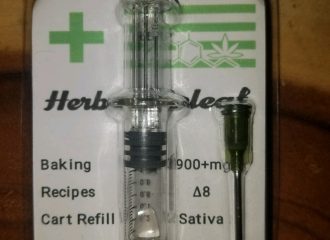 Making Edibles With Delta 8 THC Distillate
What a wonderful natural cannabinoid Delta 8 Tetrahydrocannabinol is.  Otherwise known as Delta 8 THC!  Extracted from the Hemp plant, Delta 8 THC comes in the form of distillate.  This distillate is typically vaped in vape cartridges however one of the best ways to use the Delta 8 THC distillate is to infuse it into...
Delta 8 THC Syringe Brownie Recipe & Vape Cartridge Refill
CLICK HERE FOR COA TEST RESULTS 1 – Preheat the oven to 200 degrees F. 2 – Pour 1/2 cup of vegetable oil and place in a glass jar or bowl. 3 – Place the jar or bowl on a cookie sheet, then place it in the oven for 10 minutes and remove. 4 – ...