What a set back for the state of North Carolina that was once poised to lead the nation in the Hemp Marketplace!  Instead, the state of North Carolina will be the caboose of the Hemp Marketplace, if not the buried casket of the Hemp Marketplace!
The state of North Carolina on Monday night had 29 Republican lawmakers vote to make the most profitable product of NC Hemp Farmers and NC Hemp Businesses along with the most chosen Hemp product to use by North Carolina citizens illegal starting in June!  This Gang of 29 Republican lawmakers plan to Incarcerate Hemp Farmers, Hemp Business Owners, and Hemp Users!
Does this make any sense at all in the year 2019?  29 Republican lawmakers told their North Carolina constituents, where the state has licensed 634 growers on 7,922 acres, as well as 3.5 million square feet of greenhouse space along with the citizens purchasing their products that they will become CRIMINALS IN JUNE, 2020!
This GANG OF 29 have voted against President Trump's 2018 Farm Bill, The DEA's definition of Hemp, The Supreme Court Case that is Law of the Land and the National Hemp Community!!!
This GANG OF 29 have voted to send Hemp Farmer's earnings, Hemp Businesses earnings, and State Tax Revenue right down the drain!  Profitable for everyone and this GANG OF 29 vote to make it ILLEGAL?
THE QUESTION NOW IS …. WILL GOVERNOR COOPER SIGN THIS BILL INTO LAW???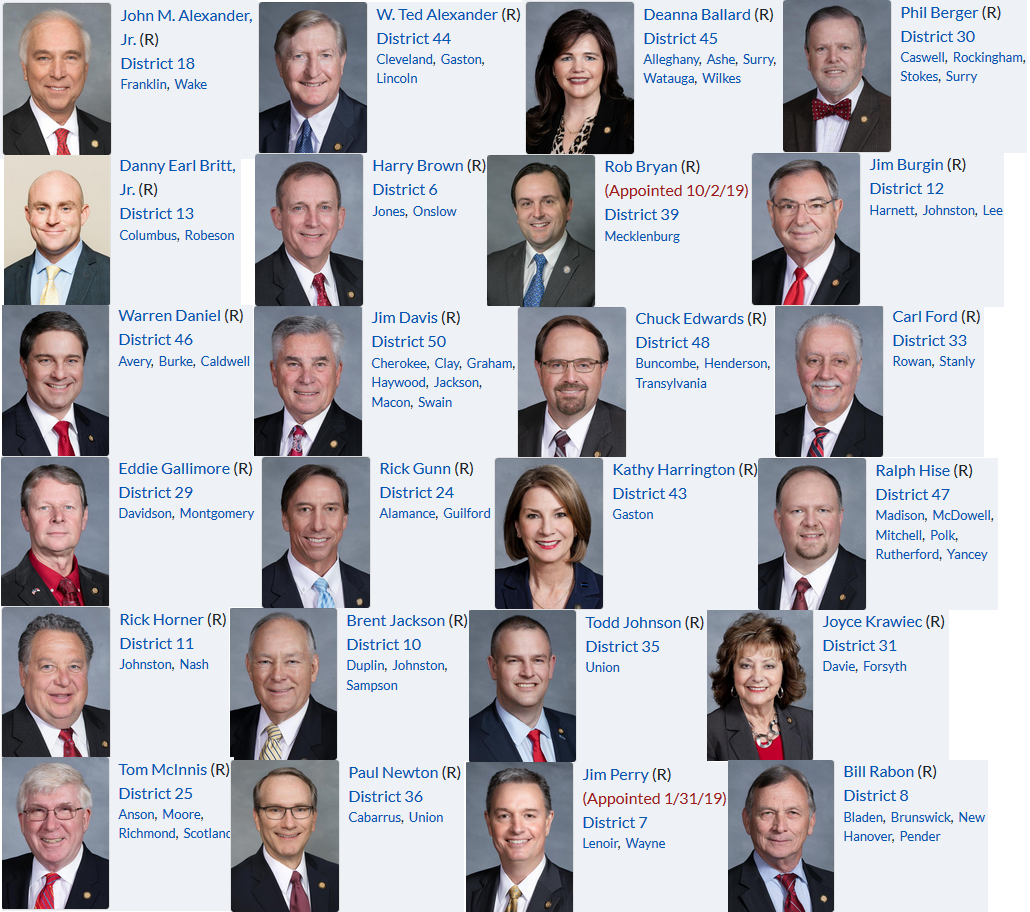 John M. Alexander, Jr. (R) – https://www.ncleg.gov/Members/Biography/S/392
W. Ted Alexander (R) – https://www.ncleg.gov/Members/Biography/S/416
Deanna Ballard (R) – https://www.ncleg.gov/Members/Biography/S/396
Phil Berger (R) – https://www.ncleg.gov/Members/Biography/S/64
Danny Earl Britt, Jr. (R) – https://www.ncleg.gov/Members/Biography/S/399
Harry Brown (R) – https://www.ncleg.gov/Members/Biography/S/139
Rob Bryan (R) – https://www.ncleg.gov/Members/Biography/S/420
Jim Burgin (R) – https://www.ncleg.gov/Members/Biography/S/412
Warren Daniel (R) – https://www.ncleg.gov/Members/Biography/S/295
Jim Davis (R) – https://www.ncleg.gov/Members/Biography/S/357
Chuck Edwards (R) – https://www.ncleg.gov/Members/Biography/S/397
Carl Ford (R) – https://www.ncleg.gov/Members/Biography/S/410
Eddie Gallimore (R) – https://www.ncleg.gov/Members/Biography/S/407
Rick Gunn (R) – https://www.ncleg.gov/Members/Biography/S/276
Kathy Harrington (R) – https://www.ncleg.gov/Members/Biography/S/283
Ralph Hise (R) – https://www.ncleg.gov/Members/Biography/S/298
Rick Horner (R) – https://www.ncleg.gov/Members/Biography/S/400
Brent Jackson (R) – https://www.ncleg.gov/Members/Biography/S/281
Todd Johnson (R) – https://www.ncleg.gov/Members/Biography/S/406
Joyce Krawiec (R) – https://www.ncleg.gov/Members/Biography/S/384
Tom McInnis (R) – https://www.ncleg.gov/Members/Biography/S/389
Paul Newton (R) – https://www.ncleg.gov/Members/Biography/S/402
Jim Perry (R) – https://www.ncleg.gov/Members/Biography/S/419
Bill Rabon (R) – https://www.ncleg.gov/Members/Biography/S/303
Norman W. Sanderson (R) – https://www.ncleg.gov/Members/Biography/S/375
Vickie Sawyer (R) – https://www.ncleg.gov/Members/Biography/S/405
Bob Steinburg (R) – https://www.ncleg.gov/Members/Biography/S/415
Jerry W. Tillman (R) – https://www.ncleg.gov/Members/Biography/S/99
Andy Wells (R) – https://www.ncleg.gov/Members/Biography/S/388