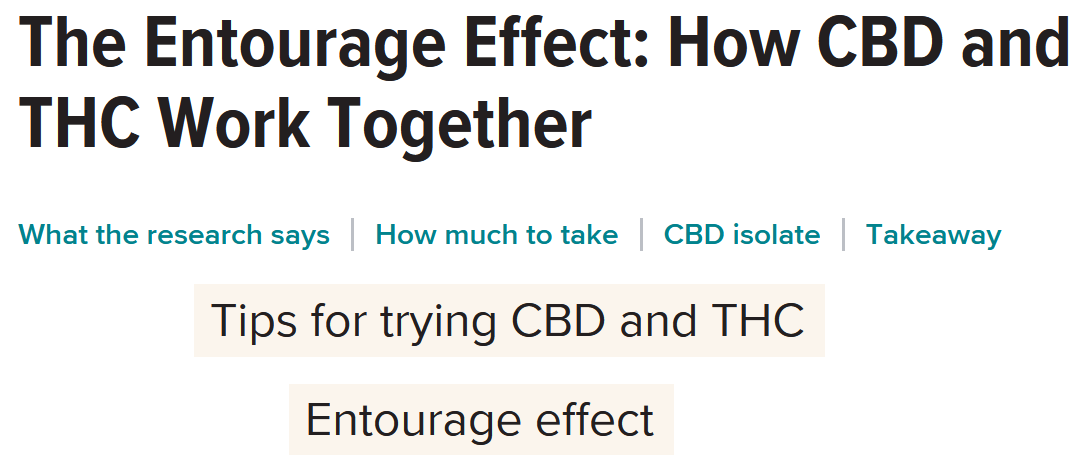 Hemp and cannabis plants contain more than 120 different phytocannabinoids. These phytocannabinoids work together with the body's Endocannabinoid System  to keep your body balanced or in homeostasis because we all get "off balanced" from time to time.
Cannabidiol (CBD) and Tetrahydrocannabinol (THC) are two of the more recognizeable and popular phytocannabinoids. Individuals take CBD and THC in various ways, and they can be consumed independently or together.  The relationship and experience between phytocannabinoids and terpenes is often referred to as "the entourage effect".
On February 2, 2023 an article from The American College of Neuropsychopharmacology titled "Controlled human drug administration studies are necessary to define the THC-sparing effects of CBD and other cannabis constituents" dives deep into the subject.  You can read more here!
The theory of the Entourage effect is basically that all of the cannabinoids in Hemp and Cannabis "work together" so when they are taken together, like with HerbaReleaf.com Delta 9 THC + Full Spectrum Gummies, experiencing the Entourage Effect will occur.
The entourage effect is an experience that all users will have in their own personal way. Each of use are uniquely different therefore our personal experience is ours to recognize.  Because we are uniquely different our experience will be different after taking a 10mg Delta 9 THC plus over 40mg Full Spectrum CBD gummies!.
Tips for trying CBD and THC together if you are considering trying for the first time or you are a "newbie" to the cannabinoids and the experience.
Perhaps starting with a low dose and increase if needed.  For THC and Full Spectrum CBD, try 5mg or less if you are a beginner. With HerbaReleaf's 10mg Delta 9 THC + 40mg Full Spectrum CBD hemp gummies starting with half as a microdose strategy is an option. Wait at least an hour or more to determine if you like the experience or would like more. Microdosing with Delta 9 THC + Full Spectrum CBD gummies can also be quartered and taken in 4 doses spread out as you choose.
Another tip would be to try the gummies are different times to determine what works best for you. Perhaps after dinner instead of alcohol to relax. Or in the daytime for creative motivation and focus. Some may prefer them as they are preparing for bedtime. Again, it's experiencing the Entourage Effect in your own way.
However, the entourage effect is still a theory. More research into the hemp and cannabis plant and its chemical composition is needed before we can know the full extent of its potential therapeutic and/or medicinal benefits.
An interesting article in the National Library of Medicine, titled "Clinical and Preclinical Evidence for Functional Interactions of Cannabidiol and Δ9-Tetrahydrocannabinol" provides wonderful information with insight into this topic if you are interested more.