People that use Hemp Cannabis products use them for whatever reason is suitable for them as an individual. Folks choose to try hemp based products because they are looking for a product that they can benefit from. A product that helps them feel better in whatever particular way that is for them.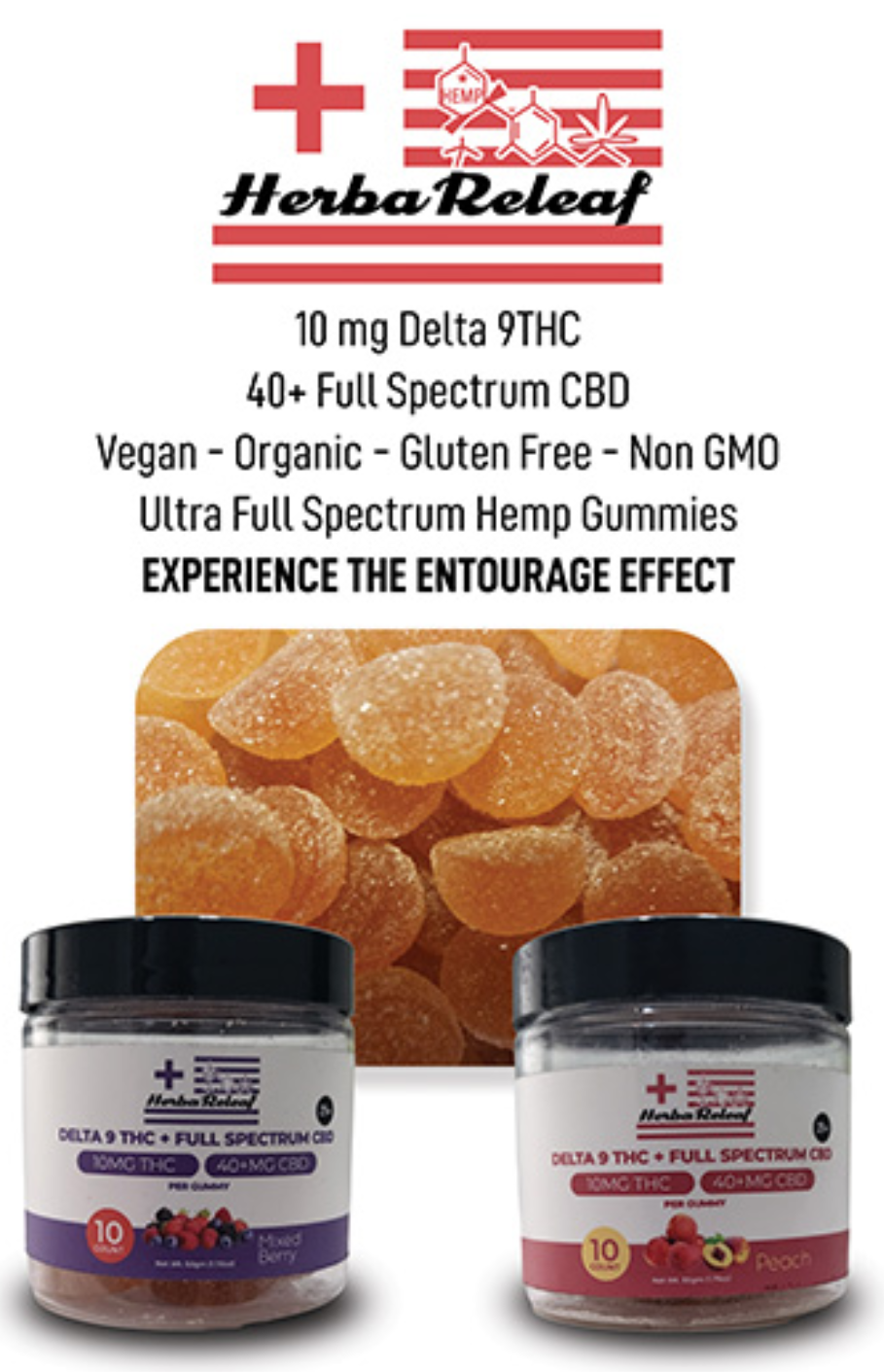 We wanted to provided information on this subject "The Entourage Effect" in order to help you understand the in's and out's of this popular theory and experience. The synergy of how all Cannabinoids in the Hemp Cannabis plant work. Our bodies respond to the minor and major cannabinoids in a way that brings the user benefits. So much so that today's Hemp Cannabis industry isolate individual chemicals and use those isolated compounds as main ingredients in Hemp Cannabis products. For example, CBD, CBN,CBG, CBC, CBV, Delta 9 THC, Delta 8 THC, Delta 10 THC, THC 0 to name a few.
The users experience however is not the same when they choose Hemp Cannabis products with Isolated Cannabinoids only. By isolating the Cannabinoids the benefits that come from the entire plant itself are removed to the user. They will only benefit from that single Cannabinoid. Isolated Cannabinoid products do not deliver an Entourage Effect experience.
When taking a Full Spectrum Hemp Cannabis product like HerbaReleaf's 10mg Delta 9THC + 40+MG Full Spectrum CBD Gummies, the user will experience the feeling of all Cannabinoids working together in their Endocannabinoid System. This experience is know as the Entourage Effect. The synergy of all Cannabinoids vs. Isolated Cannabinoids is today's users decision they face when choosing what Hemp Cannabis products to explore!
We chose an article from CannabisMD that highlights the Entourage Effect that we want to share. Topics that it covers that should be helpful to you as you decide what Hemp Cannabis products are best for you are listed below. We hope that it is helpful if you are considering Full Spectrum Hemp products like HerbaReleaf's Delta 9 THC + Full Spectrum CBD gummies!
Article Titled:  Exploring the 'Entourage Effect' With Dr. Ethan Russo
CannabisMD: Tell us about the entourage effect. How and when did you first hear about it?
cMD: So is the entourage effect a "proven" phenomenon, or are we still confirming its existence?
cMD: I'm putting you on the spot here, but is there a specific example you can give us?
cMD: OK, so it seems like the CBD-THC entourage effect is well-established. What about the cannabinoid-terpene entourage effect?
cMD: That's really interesting. Do we know how alpha-pinene works?
cMD: Then would you say that the recent study published in Cannabis and Cannabinoid Research casting doubt on the entourage effect is inaccurate?
cMD: Does that mean you think full spectrum extracts are always better than isolated compounds?
cMD: So a full spectrum product will be easier to dose. Does that also mean it's more effective at lower doses?
cMD: I've also read that people prefer the relief they get from a full spectrum cannabis product more than what they get from an isolate or cannabinoid-based medicine. Have you also heard that?
cMD: Does this apply to synthetic cannabinoids as well?
cMD: Why is there so much research on isolated compounds, then?
cMD: Is there any research in the works that we can look forward to?
cMD: Do you have a final piece of advice for our readers who are seeing negative news about the entourage effect?