A few things to help you choose the best full spectrum CBD gummies. There are a few key factors to consider if you are trying to make an informed decision for a premium CBD experience.
In recent years, CBD products have gained immense popularity for their potential health benefits. Among the various CBD consumption methods, gummies have emerged as a convenient and tasty option. However, with numerous brands flooding the market, selecting the right full spectrum CBD gummies can be overwhelming. Fear not! In this guide, we'll walk you through the essential factors to consider when choosing high-quality full spectrum CBD gummies.
Understand Full Spectrum CBD:
Full spectrum CBD refers to products that contain all the naturally occurring compounds found in the cannabis plant, including cannabinoids, terpenes, and trace amounts of THC. This combination is believed to create an "entourage effect," where the compounds work in synergy to enhance the potential therapeutic benefits.  Here at HerbaReleaf.com the Delta 9 THC has not been removed from the Hemp Concentration.  In fact, not only is it left in, but each gummy contains 10mg of Delta 9 THC from hemp (+/- 1) along with over 40mg of CBD and a range of other minor cannabinoids.
Source of Hemp:
Start by researching the hemp source of the CBD gummies. Hemp plants are bio accumulators, meaning they absorb substances from the soil. Choose gummies made from organically grown hemp to ensure they are free from harmful pesticides, herbicides, and other chemicals. Look for products sourced from reputable farms within the United States, as they adhere to stricter cultivation standards.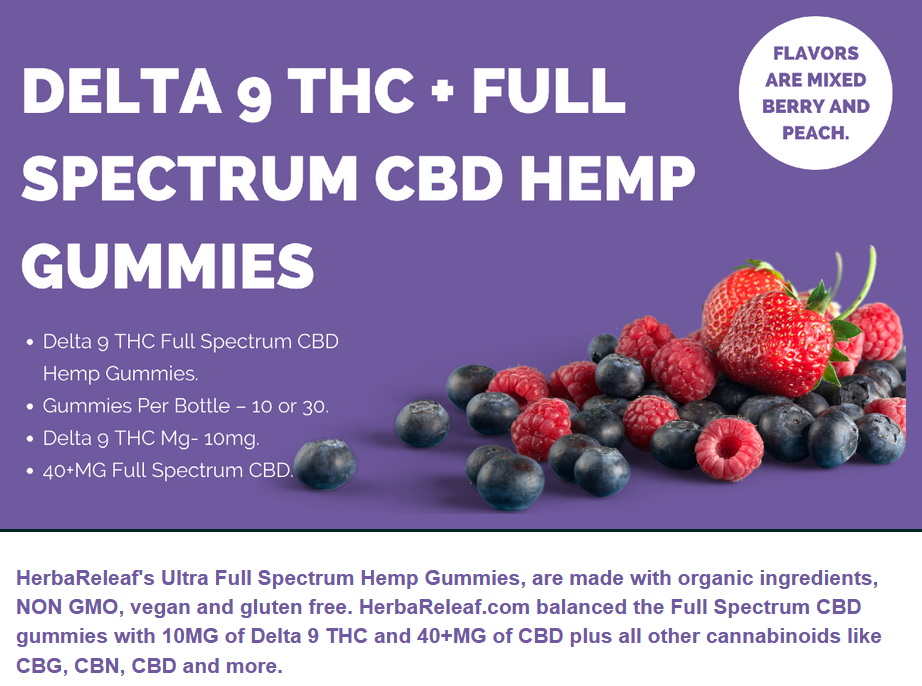 Third-Party Lab Testing:
Reputable CBD companies conduct third-party lab tests to verify the quality and safety of their products. These tests provide an unbiased analysis of the CBD content, THC levels, and the presence of any contaminants. Look for gummies that have a certificate of analysis (COA) available on the manufacturer's website or upon request. This ensures transparency and confirms that the gummies are free from harmful substances.  The COA's for HerbaReleaf's 10mg Delta 9 THC + 40mg CBD Ultra Full Spectrum gummies can be found here
CBD Concentration:
The CBD concentration in gummies varies among different brands. Check the product label or website to determine the milligrams (mg) of CBD per gummy. Consider your individual needs and desired dosage when selecting the appropriate CBD concentration. Beginners may want to start with lower concentrations (e.g., 10-15mg) and gradually increase as needed.
Flavor and Ingredients:
CBD gummies come in various flavors and formulations. Opt for gummies made with natural and organic ingredients, free from artificial additives and sweeteners. Read the ingredient list carefully to avoid allergens or any components you prefer to avoid. Additionally, consider the flavor profile that appeals to your taste preferences to enhance your overall experience.  You can find two wonderful flavors here at HerbaReleaf.com, Peach and Mixed Berry Ultra Full Spectrum gummies.
Price and Value:
While price shouldn't be the sole determining factor, it's essential to consider the overall value when choosing CBD gummies. Compare prices across different brands, considering factors such as CBD concentration, ingredient quality, extraction method, and reputation. Look for brands that offer transparent pricing, discounts, and money-back guarantees to ensure you're getting the best value for your money.