Delta 9 THC + Full Spectrum CBD Cannabis Hemp Gummies & Edibles Dosing Guide
Pretty sure you have heard of someone eating too many edibles and had an undesirable experience.  With edibles you need to dose them per your personal endocannabinoid system.  Just because they are tasty little snack treats does not mean that more is better (remember you are not eating them for hunger).
THC and CBD can react differently for each person and some may do better with a lower dose, while others need to consume more THC to feel the same result.  Until you find your personal Releaf spot, start small.  Think of finding that radio station with the turn dial, through the static, then the station is clear and the song comes through … that is your Releaf Spot!
Hopefully this article can help show you how to find your Releaf Spot with Delta-9 THC + CBD Hemp edibles. Continue reading below as we guide you through a dosing strategy.
Why Are Delta-9 THC Edibles Strong?
Most often, when people talk about strong edibles, they're talking about edibles with Delta-9 THC from hemp. Delta-9 THC from hemp is the 'regular' form of THC or the one we all know and love. When Delta-9 THC from hemp is ingested, it goes through our digestive system. Then it gets processed by the intestines and on to the liver. At the liver, Delta-9 THC from hemp turns into 11-hydroxy-THC which is super potent and feels much stronger than regular Delta-9 THC from hemp. Therefore the effects even experienced cannabis users much different than smoking or vaping does, and lasts much longer.
How to Dose Delta-9 THC Edibles
Foremost, we are not discussing a dosing strategy for homemade edibles, which have an extremely unpredictable amount of THC, amongst many other possible undesirable things.
Next, dosage is going to be different for different people with different edible products. Many things can play into dosage, like age, height, weight, gender, diet, and of course, cannabis use experience. Always start with a professionally made edible that has a known dosage listed on the packaging. That means that there's an amount of Delta-9 THC from hemp on the package listed in milligrams (mg).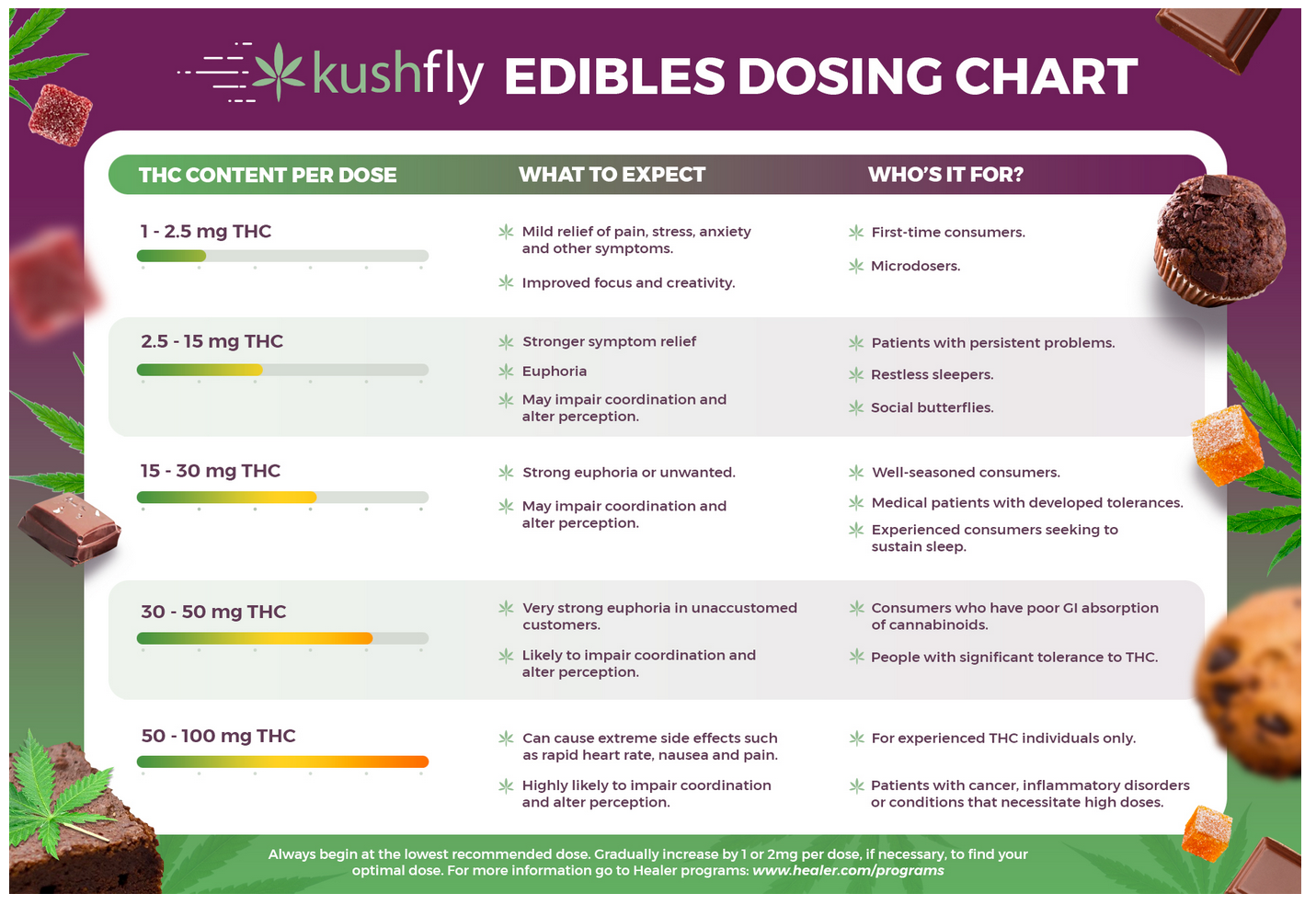 Always Start Small
Remember to always start small if you are new to trying Delta 9 THC from hemp edibles.  That's because Delta-9 THC from hemp edibles can come in waves and get stronger over time.  It's advised to wait at least two hours before taking more if you "don't feel anything". Remember the digestion process discussed earlier.
Sometimes an edible can take hours to hit you, and if you've taken more after the initial dose, then you may be getting ready for an interesting ride . If you're a little unsure about dosing a Delta 9 THC + Full Spectrum CBD edible, start with 5 mg to be on the safe side and wait.
Small Dose
A small dose is just that, a low amount that is anywhere from 1 to 5 milligrams Delta-9 THC from hemp. As a result, you'll likely feel relief from stress, anxiety and pain or stiffness.  This is a good dosing range for micro dosing.  Feeling creative and focused, often motivated and "in tune". This is the perfect place to start if you're new to edibles or a little sensitive to them.
Medium Dose
Moving up to a medium average dose would be in the 5 to 25 milligrams of Delta-9 THC from hemp.  This mg amount will likely make you  feel it a lot more in the body and feelings of euphoria. This a good recreational dosing range and a great dosing range for insomnia problems and will help to improve sleep.  If you have a little bit of experience with edibles or definitely want to feel something, then this dose range would be for you.  Impaired coordination and perception may likely begin on the higher mg end.
High Dose
Up next is a high dose.  This range would be from 25 to 50 milligrams of Delta-9 THC from hemp. This dose is for seasoned edible eaters and is perfect for people who know what to expect. At this point, you'll definitely feel heavy effects of euphoria, couch potato like outcome and hefty appetite is known to appear!  Impaired coordination and perception most likely to onset.
Why Isn't Your Edible Working?
Sometimes first time users report feeling no effects the first time taking an edible, but then do feel the normal effects after a second or third time taking the same edibles. So, if you don't feel the effects the first time just try again and they will work normally for you too. Remember, you only need to find your dose once, and then you'll know how much Delta-9 THC + Full Spectrum CBD from hemp to take.  You will have found your Releaf Spot!
Find Your Dose
Now that you know how to find your dose, getting too high should be a thing of the past.  If you're ready to try the best Delta 9 THC + Full Spectrum CBD gummies on the market, click through to www.HerbaReleaf.com.
Our Delta 9 THC + Full Spectrum CBD Hemp gummies are hand-crafted in the USA, organic, vegan, gluten free and lab-tested to ensure the best possible quality.
Try HerbaReleaf Delta 9 THC + Full Spectrum CBD Hemp gummies today and find your Releaf spot from gummies!