Personal wellness routines refer to a set of intentional and consistent practices that individuals engage in to promote their overall well-being. These routines encompass various aspects of life, including physical, mental, emotional, and spiritual health. They involve incorporating healthy habits and self-care activities into daily or regular schedules to support a balanced and fulfilling lifestyle. Georgetown University Student Health Services defines it as "that optimal overall wellness in all aspects of life – emotional, intellectual, social, spiritual, and physical is key to success in college and beyond".
IncentFit lists the 7 dimensions of personal wellness as physical, mental, occupational, social, spiritual, financial and environmental.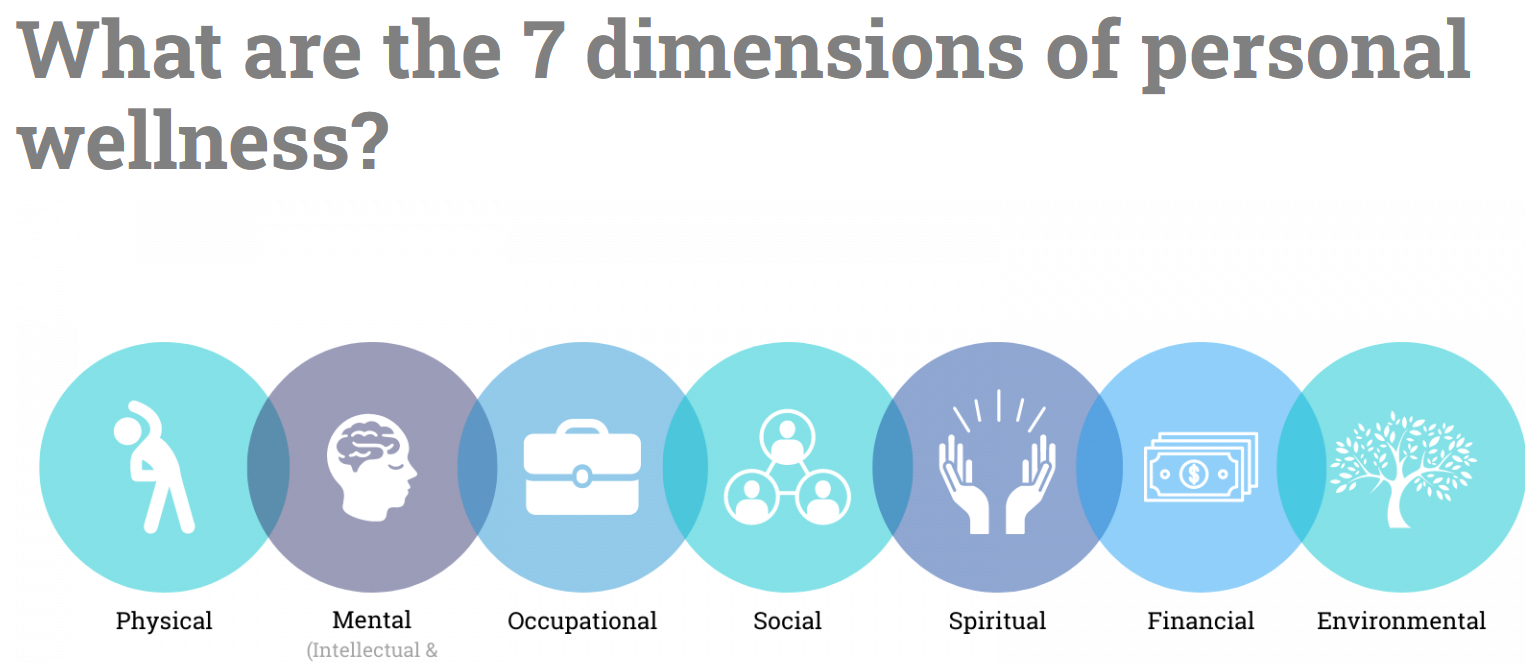 Personal wellness routines are important for a variety of reasons to all individuals.  Some simply pay more attention to them than others.  We shortened those a bit to give more insight into what makes up good personal wellness and routines.
Physical Health:  A wellness routine that includes exercise, proper nutrition, and regular health check-ups may improve physical fitness, boost immunity, and prevent the onset of chronic diseases. It helps individuals maintain a healthy weight, build strength, increase energy levels, and enhance overall physical well-being.
Mental and Emotional Well-being:  Personal wellness routines play a crucial role in managing stress, improving mental clarity, and enhancing emotional resilience. Activities like meditation, mindfulness exercises, journaling, and engaging in hobbies may reduce anxiety, improve focus, foster self-awareness, and promote emotional stability.
Stress Reduction:  Regular self-care practices within a wellness routine help individuals cope with daily stressors and promote relaxation. Taking time for activities such as reading, taking baths, spending time in nature, or practicing mindfulness may lower cortisol levels, enhance mood, and improve overall stress management.
Enhanced Productivity and Focus:  Personal wellness routines help individuals optimize their productivity and focus. By prioritizing self-care activities like regular exercise, healthy eating, and adequate rest, individuals may experience increased energy levels, improved concentration, and mental clarity, leading to enhanced performance in various aspects of life, including work, study, and personal goals.
Improved Sleep Quality:  Incorporating good sleep hygiene practices, such as maintaining a consistent sleep schedule, creating a calming bedtime routine, and avoiding electronic devices before bed, may significantly enhance sleep quality. Quality sleep is essential for cognitive function, emotional well-being, and overall physical health.
Taking care of one's own well-being through personal wellness routines positively impacts relationships with others. When individuals prioritize self-care, they are better equipped to handle conflicts, communicate effectively, and establish healthier boundaries. This leads to more fulfilling and positive interpersonal connections. Engaging in regular physical activity, maintaining a balanced diet, and prioritizing self-care may contribute to preventing chronic diseases, improving longevity, and overall quality of life. Personal wellness routines support healthy aging and may reduce the risk of conditions such as heart disease, obesity, diabetes, and mental health disorders.
Personal wellness routines are highly individualized, and what works for one person may not work for another. It's essential to personalize your routine based on your specific needs, preferences, and goals. Consulting with healthcare professionals, nutritionists, or wellness coaches may provide guidance and support in creating an effective and sustainable wellness routine.
Full Spectrum CBD gummies may be a valuable addition to your wellness routine due to the numerous potential benefits they offer. Healthline reports that around 25% of US Adults are interest in CBD.  CBD, short for cannabidiol, is a natural compound derived from the cannabis plant. Full Spectrum CBD gummies contain not only CBD but also other minor cannabinoids, terpenes, and amounts of Delta 9 THC (tetrahydrocannabinol), which is the psychoactive compound. With www.HerbaReleaf.com Ultra Full Spectrum CBD gummies, milligrams of both major cannabinoids, Delta 9 THC and CBD, are included. Experience 10mg Delta 9 THC and over 40mg of full spectrum CBD in our peach flavored gummies by ordering here.

Full Spectrum CBD gummies may enhance your wellness routine by promoting relaxation and stress reduction. CBD has been shown to have anxiolytic (anti-anxiety) effects, helping to reduce stress and promote relaxation. Consuming Full Spectrum CBD gummies may provide a convenient and enjoyable way to incorporate CBD into your routine, potentially reducing symptoms of anxiety and improving overall well-being.
Many people struggle with sleep issues, such as insomnia or difficulty falling asleep. CBD has been studied for its potential to improve sleep quality, Support healthy sleep patterns. Full Spectrum CBD gummies may help you relax before bed and promote a more restful sleep, allowing you to wake up refreshed and rejuvenated.
CBD has analgesic (pain-relieving) properties that may be beneficial for individuals dealing with chronic pain or inflammation. Full Spectrum CBD gummies may help reduce discomfort associated with conditions such as arthritis, migraines, or muscle soreness. By interacting with the endocannabinoid system in the body, CBD may help modulate pain signals and promote a sense of well-being.
Enhancing mood and mental clarity is sought after by us all at one point and time in our lives. Full Spectrum CBD gummies may potentially enhance your mood by interacting with receptors in the brain that regulate emotions and cognitive function. By supporting a balanced mood, CBD may help alleviate symptoms of depression and promote mental clarity, allowing you to stay focused and productive throughout the day thereby supporting your overall well-being. CBD has been studied for its potential to support overall health and well-being. It may help regulate appetite, support a healthy immune system, and promote a balanced inflammatory response. By incorporating Full Spectrum CBD gummies into your routine, you may potentially improve your body's overall balance and homeostasis.
Full spectrum CBD gummies offer a convenient and discreet way to consume CBD. They come pre-dosed, making it easy to know how much CBD you're consuming with each gummy. Whether you desire a single gummy at a time or you prefer microdosing and splitting the gummy into smaller pieces. Additionally, they have a pleasant taste, which makes them a more enjoyable option compared to other CBD products such as tinctures or capsules.
Ultra Full Spectrum CBD gummies are derived from hemp, which contains less than 0.3% THC, the legal limit in the United States. It's important to note that while Full Spectrum CBD gummies may offer potential benefits, individual experiences may vary. It's always advisable to consult with a healthcare professional before incorporating CBD into your wellness routine, especially if you have any underlying medical conditions or are taking medications that could interact with CBD. They may provide personalized guidance and help you determine the appropriate dosage and usage for your specific needs.